Elephants Are Smart…
Posted on 08 September 2015
My grandfather was a goodwill ambassador for the US government. He was sent to places like Morocco, Pakistan, Iraq, Egypt, and Vietnam to help people grow crops.
Because he was representing the US, he was expected to wear a suit and hat to work, even when working in wet humid climates as you find in Southeast Asia. When he worked in Vietnam he would also ride an elephant to the fields while clothed in such a fashion.
He was besotted with the elephants. He told my brother, sister, and I on a number of occasions about how smart they are. My favourite story was about the time when his hat was blown off. The elephant reached out with its long grey snout, carefully picked the fedora up, and PLACED IT BACK ON HIS HEAD! How cool is that?
The elephants at the Royal Melbourne Zoological Gardens are Asian elephants like the one my grandfather rode. Now I know it was probably a bad idea that he did. The back of an Asian elephant is humped, unlike an African elephant whose back is somewhat swayed. This means that after awhile, the elephant's back will be hurt by the weight of a rider.
The Melbourne Zoo has a herd of eight elephants. They have given them Asian names. I'm not certain if some of the names are Malaysian and some Thai, since those are the countries from which they came. Mek Kapah is the oldest elephant and she is the matriarch of the group. The one fully grown bull is Bong-Su. He is kept in a separate paddock. Dokkoon is the next oldest female. She gave birth to two daughters: Mali and Man-Ja. Female elephant Kulab is the mother of five year old boy Ongard. Female elephant Num-oi is currently expecting. She will probably give birth around May next year.
In 2006 Mek Kapah and Bong Su found their herd of two expanded with three more females. In 2009 the elephant enclosure was completely updated. It's certainly an improvement on the previous area in which the elephants lived. I'm sure that Mek Kapah and Bong Su are much happier with more space and more elephants with whom to share their lives. Elephants are highly social, they need to be with other elephants. Mind you, I hear when Dokkoon arrived, she didn't take to Mek Kapah straight away! They seem fond of each other now.
I am interested in writing a musical about African elephants, but my time observing and learning about this family of Asian elephants is already proving a real joy.
Peace and kindness,
Katherine
Quote of the day:
A teacher brings her kindergarten students from lunch to see the elephants. "See, how the elephants pick up their food with their trunks? Their trunks are like a hand. People in some cultures also eat with their hands."
*facepalm*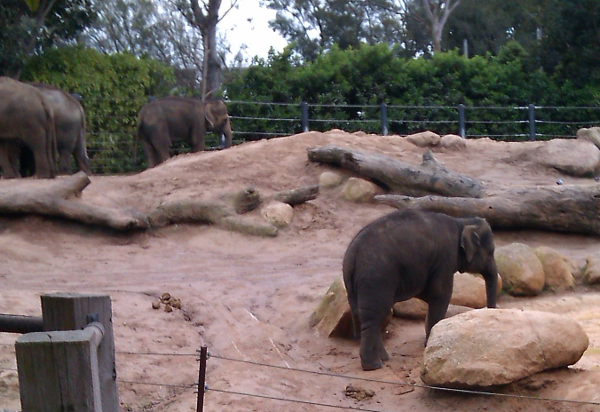 RSS Feed

Categories

Archives

Blogroll