Sandbox Land: Once Upon a Time…
Posted on 18 June 2015
Okay, I'm not certain how to say this, so that it's clear this isn't just marketing speak. Our next Sandbox Land is going to be exceptional. I mean kick yourself exceptional, if you don't come along. I of course think all my shows are wonderful. I have to: that's what makes it possible for me to continue creating. The quality of the performers this time is particularly high.
We will be focussing on fairytales and myths.
Performers
Storyteller: Roslyn Quin
Poet: Joel McKerrow
Storyteller: Niki na Meadhra
Puppeteer: Melissa Jade Edwards
Interpretive Performer: Victoria Haslam
MCs:
Tzup Wuff
Katherine Phelps
When: 7pm Saturday 27 June
Where: 14 Raglan Street, North Melbourne
Tickets: http://www.trybooking.com/IAVY
Family and child discounts!
Discounts if you come dressed in fairytale costumes!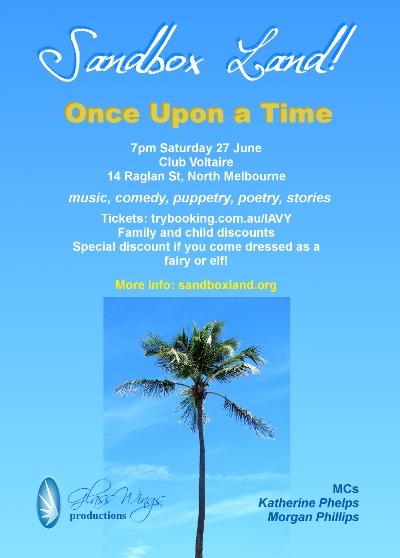 RSS Feed

Categories

Archives

Blogroll