Rio Tinto: Respect Sacred Land
Posted on 18 June 2015
Rio Tinto is set to damage land in Oak Flat Arizona that is sacred to the Apache. The San Carlos Apache are protesting in the US. Rio Tinto's head offices are at 120 Collins Street, Melbourne Australia. I live in Melbourne Australia and part of my heritage is American Indian. I'm a one person protest at the moment, but the executives going in and out of the building see me as I stand on Uniting Church land next door rattling my turtle. I feel ashamed of Australian business for being a part of inflicting environmental damage and cultural damage to aboriginal peoples around the world.
I have already protested two times, and will be holding further vigils in the weeks to come. Contact me, if you are interested in joining. Below are links describing the issues.
New York Times: Selling Off Apache Holy Land.
Al Jazeera America: In Arizona, a controversial federal land swap leaves Apaches in the lurch.
Earthworks: World's two biggest mining companies want to mine sacred lands, a public campground, and a popular rock climbing destination.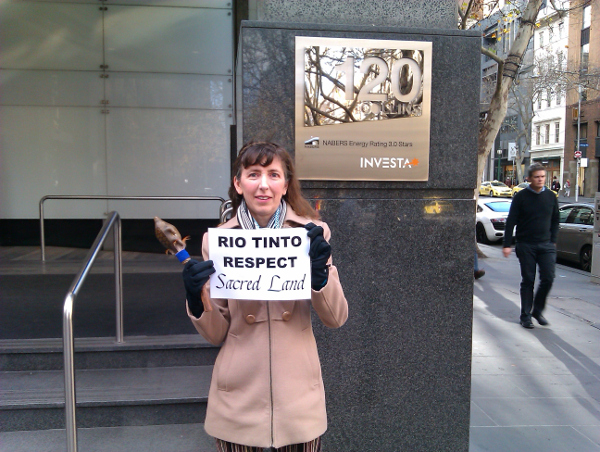 Peace and kindness,
Katherine
RSS Feed

Categories

Archives

Blogroll