Rio Tinto Protest: The Mistreatment of Vulnerable Peoples
Posted on 22 June 2015
Today I spent an hour participating in the Aboriginal vigil, then walked over to Rio Tinto's offices and spent an hour there. Two people from the silent vigil joined me. We held signs while standing on St Michael's property and I sang one of my favourite Sharon Burch songs: "We Are Here".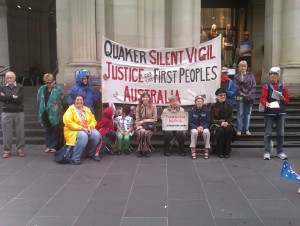 We are grateful to the Uniting Church for the right to stand on their sacred land in an effort to protect someone else's sacred land. I was nervous Rio Tinto would send security to shoo me off their footpath. On the previous Sunday a photographer friend, Lilybet, agreed to photograph my protest. We were invited into St Michael's service. Later we were given an opportunity to speak to people publicly during tea and biscuits, at which time we were given permission to stand on their property. In the photos you will note the irony of their proximity (Rio Tinto would you take and dig up St Michael's?)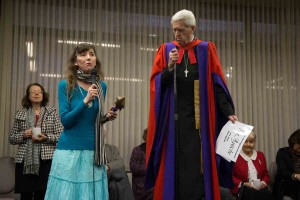 Australians, please think about what our corporations are doing to the environment, what they are doing to our own people, and what they are doing to peoples overseas, because these are all interconnected. You have a responsibility and an opportunity to act with foresight, integrity, and compassion.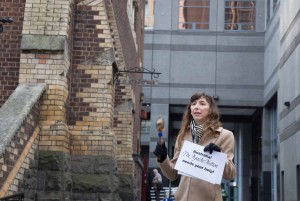 Peace and kindness,
Katherine
A special thanks to Lilybet for the last two photos!
RSS Feed

Categories

Archives

Blogroll