Sandbox Land: SUPER Heroes!
Posted on 21 May 2015
Sandbox Land is going to be HOT this Saturday! So, if you want performance that will warm you up, come along!
The night's performers:
Comedian: Dilruk Jayasinha!
Poet: Lana Woolf
Storyteller: Ian McNally
Singer: Yasemin Arifoglu
Singer/Musician: Chris Southall
Cosplayer: Sam Dowling
Sketch Performers:
Gabe Hogan
Kaska Harvey Zielinski
MCs:
Katherine Phelps
Morgan Phillips
When: 7pm Saturday 23 May
Where: 14 Raglan Street, North Melbourne
Tickets: http://www.trybooking.com/HRPF
Family and child discounts!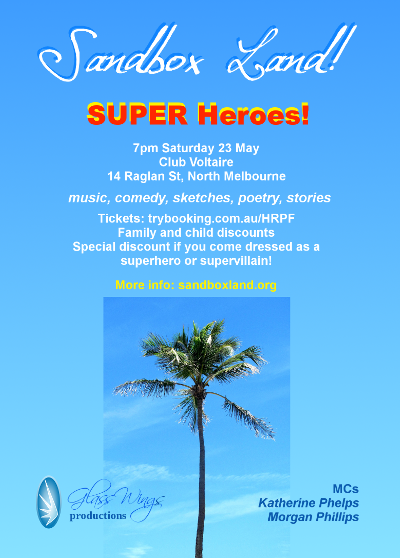 Peace and kindness,
Katherine
RSS Feed

Categories

Archives

Blogroll