2014 Melbourne Fringe—
A Four-Eyed Guide to the Galaxy
Posted on 25 September 2014
I am partial to soulful works. These are songs, plays, comedy routines, etc that speak with honesty and authenticity about our human journey. Grand tragedies aren't necessarily soulful at all. "The king dies and the queen dies of grief" does not speak of who we are and how we manage life.
Often the most devastating of times are met with the resilience that is found in humour or some expression of beauty, such as song. These things help us to see that life is made up of more than just darkness. If things are stark, we can choose to focus on what is destroying us or on what speaks of our capacity for transcendence.
A Four-Eyed Guide to the Galaxy is a beautifully sweet and sad story about a girl named Buzz. She is left behind on Earth, when humanity has moved to Mars in order to survive after destroying this planet. We learn about her family, her aspirations, and what it has been like living alone. Her relationship with her dachshund provides the window through which we see into the heart of this character, and it is quite a large joyful heart. No matter how hopeless her situation is, she still finds things to celebrate.
Rowena Hutson is a brilliant storyteller and performer. Her gentle smile and bright eyes create a deeply sympathetic character that is uniquely memorable. The world she creates with her cardboard boxes, flannel pajamas, and soft toys emphasizes the vulnerability of her character and her situation. The audience yearns to protect and rescue her. But Buzz for all her apparent naivete is wise in knowing how to protect herself, and it's not by closing herself down to a universe which includes pain, but rather opening herself even wider to its wonder.
This is a stunning work, beautiful and with plenty of humour. I highly recommend people see it and see it at Melbourne Fringe in order to give Rowena Hutson every chance to take it elsewhere. This is an artist who deserves to succeed.
Tickets: http://www.melbournefringe.com.au/fringe-festival/show/a-four-eyed-guide-to-the-galaxy/
Peace and kindness,
Katherine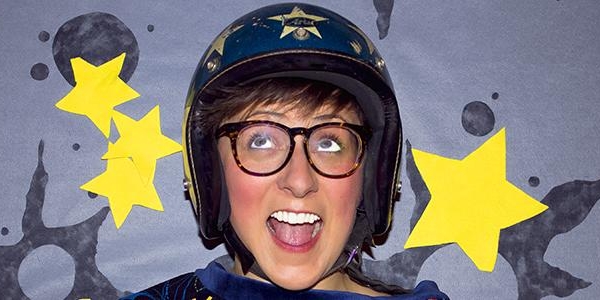 RSS Feed

Categories

Archives

Blogroll