31 Questions—A Few Answers
Posted on 23 April 2014
For the most part I like staying focused on live performance. So much movie and television comedy is in the world, and many people are already reviewing it. The areas that don't get as much love are comedy radio shows, podcasts, vodcasts, and community television. These are sometimes seen as lesser forms to their larger budget cousins. When they are considered, it's usually as a stepping stone into film and tv.
When you care about being a full-time artist, it's easy to dismiss grassroots media, because it's so hard to make a living there. Nevertheless, their existence is vital to a healthy culture and a healthy democracy. Large media conglomerates narrow people's tastes and present them with a self-serving view of the world. We need artists creating exciting new media that goes right off the edge of mainstream productions. We need creators exposing the populace to hidden realities and asking tough questions. Not everything has to be dark and/or political, but experimentation and exploration are a must.
Writer and producer Dean Watson had been prodding me for some time to take a peek at 31 Questions, a tv show on community television Channel 31. I finally had a spare moment last week and was provided a ticket to see the last show of the season. It was a nice moment to be with the 31 Questions cast and crew. It was their thirty-first show and may well have been their finale. The celebratory atmosphere as the studio audience packed out all the seating space to wish the show a fond farewell was a delight.
After seeing that night's show I hope they go on. They were doing some very interesting things with the genre.
Ostensibly 31 Questions is a trivia show. They have two contestants from the public, several rounds of questions, a host, a scorekeeper, and a moderator. But they didn't leave things there. Comedy and storytelling were clearly important to all those who collaborated in putting the show together. So the regular performers don't simply have roles, they also have characters. These characters are developed through scripted interactions and continuing storylines throughout the seasons. It's a simple enough concept, and we've had tastes of this sort of show in television sketch programs like That Mitchell and Webb Look. Dedicating an entire show to the idea gives some room to creatively reconnoitre.
Steve Coogan made a name for himself sending up news shows and talk show hosts as Alan Partridge using a similar format to 31 Questions. I like the fact this is more of an ensemble work. David M. Green plays a self-absorbed, egotistical nitwit and game presenter. Anthony McCormack (of The Naughty Rude Show) plays a jovial curmudgeon. Sophie Loughran plays a put-upon scorekeeper. I enjoyed seeing them send up the sexual politics of the usual gameshow format. Their timing was good and their performances engaging.
31 Questions only touched on the possibility of more nuanced social commentary and overt stories. Their sense of fun was spot on. I would really like to see them do another season, only give themselves the space to go nuts with their own structure. Go ahead and fill out the characters and let us know about their lives as they intersect with the show. If they do not continue with 31 Questions, congratulations everyone on a terrific show! I would be interested to know about your future endeavours.
See episodes: www.youtube.com/user/31questions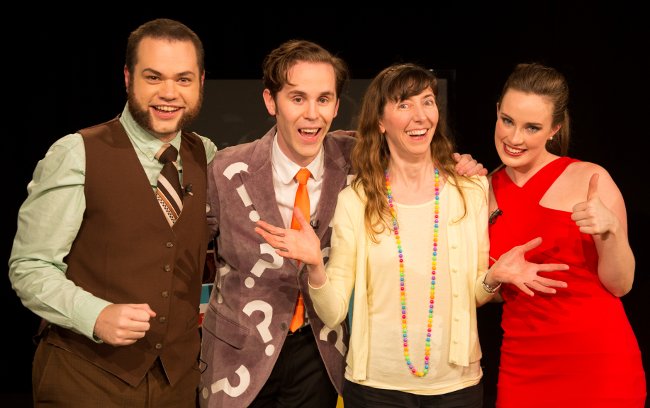 Peace and kindness,
Katherine
RSS Feed

Categories

Archives

Blogroll