2014 Melbourne Comedy Festival:
• Tom Lang—Love Factually
Posted on 01 April 2014
Scienceworks presenter Tom Lang takes Melbourne audiences on a tour of the sillier side of animal sex. We learn things about love darts (ouch!), real boners, and how the animal kingdom enjoys a little French farce upon occasion.
Lang has a delightfully engaging style that puts him on a par with Dr Chris Brown of Bondi Vet fame. His degree in science communication serves him well as he lucidly explains the, um, ins and outs of reproduction. This is not a lurid show, but as Lang admitted to me, "It's basically a lot of dick jokes." But how offended could anyone be when he starts with talking about plant sperm?
Props and multimedia are used to good effect, ensuring the audience has a clear understanding of the points Lang makes about each of his subjects. The fur covered bucket is hilarious. Other props I don't dare speak about, so as to not spoil the jokes. You will be surprised at what you are allowed to handle.
I would have liked something of a narrative climax by the end of Love Factually, but even without that extra "oomph", this is a charming show. I can completely understand why it's popular with hens nights.
Tickets:
www.comedyfestival.com.au/2014/season/shows/love-factually-tom-lang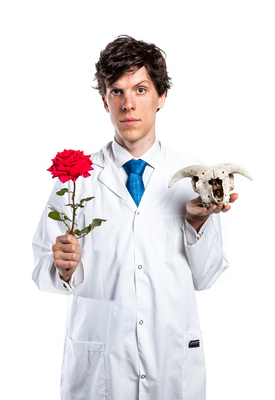 Peace and kindness,
Katherine
RSS Feed

Categories

Archives

Blogroll