2014 Melbourne Comedy Festival:
• Stella Young—Tales from the Crip
Posted on 04 April 2014
A recent scientific study found evidence that people become more empathetic after reading certain sorts of fiction. Basically, you imagine what it is like to be certain characters in order to follow the plot, thereby gaining an emotional connection. What I love about live comedy shows is that we imaginatively enter so many different people's worlds, discover what their lives are like, and learn to care about them through humour.
Stella Young is a talented comedian, journalist, and disability advocate. She has Osteogenesis imperfecta, a form of dwarvism that causes her to have brittle bones. When people are categorised and kept separated because it is more "convenient", for whom is of course the question, we start losing the ability to understand or empathise with the diversity that is humanity. Hearing stories such as Young's helps to bridge the gap.
Young's humour is intelligent and delightfully goofy. The stories she tells about how other people cope with her disability takes the blinkers off our often limited vision of what it's like to be Young, or anyone else with significant variations from the mainstream.
She covers the different words for "crips", takes us through a 1970s book on how to treat the disabled, tells us about her experiences with sex, and the time she was on a television show with a scientist who was promoting eugenics. My favourite story had to do with a child believing Young was an imaginary friend.
Tales from the Crip is a wonderful evening of entertainment. Young's skill and professionalism deserve bunches of stars. Tell me how many you want Stella Young, and you've got them from me.
Tickets: www.comedyfestival.com.au/2014/season/shows/tales-from-the-crip-stella-young-in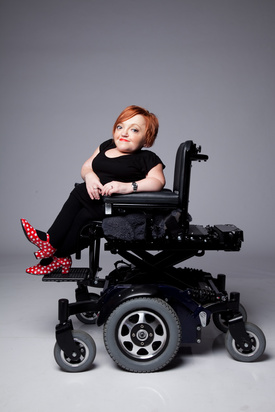 Peace and kindness,
Katherine
RSS Feed

Categories

Archives

Blogroll