2014 Melbourne Comedy Festival:
• 5 for 5 at 5
Posted on 11 April 2014
Let's talk about audiences. This year there are around 480 shows all competing for audiences. Everyone is feeling how thinly spread those punters are. Even when the competition is less fierce among comedians, you still have to compete with television, film, and computer games.
So how do you convince people to turn up at your show? You could play tag with passersby at Melbourne Town Hall. Stuffing flyers into people's hands willy-nilly. More satisfying and perhaps more effective is participating in a taster show.
A taster show is an affair where a collection of comedians showcase their skills to an audience, giving them the flavour of their individual styles. 5 for 5 at 5 is well placed to encourage people to explore the comedy festival even deeper. For a small investment of five dollars at five o-clock, people can dip their toe into the possibilities without much risk of time or money.
The performance I went to had a solid line-up of comedians with well-honed skills and enjoyable material. Mick Davies does a smooth job as the MC, providing plenty of his own material. His turn as a radio presenter served him well in this role. Stuart Dolman of Wizard Sandwiches shows us what he can do on his own. He has a topnotch stage presence and charismatic delivery. His comic strengths would make him ideal for raconteur style comedy. Michael Hing is sharp and funny, incisively dissecting cultural stereotypes. Adam Knox oozes geeky charm. Sonio di Lorio is the surprise gem with television quality skill and professionalism. Matt Burton's cuddly Eeyore type persona has a lovely alternative comedy edge to it.
I can highly recommend these sorts of shows as an inexpensive way to promote yourself, if you're a comedian. I can highly recommend these sorts of shows if you want to dive into comedy as an audience member, but don't know where to start.
Tickets: www.comedyfestival.com.au/2014/season/shows/5-for-5-at-5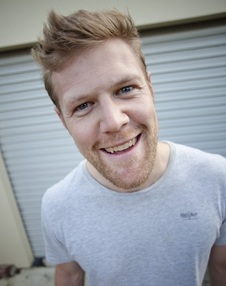 Peace and kindness,
Katherine
RSS Feed

Categories

Archives

Blogroll