2013 Melbourne International Comedy Festival:
• The Man Who Planted Trees
Posted on 11 April 2013
For seventeen years I ran a small animation society. At our height we had close to a hundred members. We showed animation from all over the world: Japan to Cuba to The Netherlands, and more. We watched what was best in children's and mainstream animation to adult and experimental animation. I was excited by what could be done with the art. I was even more excited by the storytelling and diversity of subject matter that couldn't be found anywhere else.
One of my very favourite animateds was The Man Who Planted Trees. It is about a shepherd who reforests a barren part of France. This film was based on the book of the same name published in 1953. It won an Academy Award for best animated short film in 1987. You can still find a few new DVDs of this for sale starting at $100! Which is a shame. Beautiful art and beautiful stories, calling us to be better than we are, should always remain within an audience's grasp.
The book's author Jean Giono says of his story, "The goal was to make trees likeable, or more specifically, make planting trees likeable…I freely give away my rights, for all to publish. An American has come to me recently, to ask my permission to make 100,000 copies which he would distribute freely in America (which of course, I granted)… It is one of my works of which I am most proud. It does not bring me a cent, and this is why it is able to achieve the goal for which it was written."
The Puppet State Theatre Company from Edinburgh have created their own version of this story and have taken it on the road. This is their second time they have toured Australia. Émer Harrington, one of the program managers at the Melbourne Arts Centre, arranged to bring this production back to our city during the comedy festival. I am overjoyed that she did.
The Man Who Planted Trees is a story I would think of as appropriate to an adult to teen audience. Richard Medrington and Rick Conte, who created this adaptation and are its puppeteers, have done a remarkable job. With their light wit and warm performances they have made it accessible to small children. My faith has been restored that kids entertainment does not have to be all poo and snot jokes.
At no point do the puppeteers talk down to the children. They simply expanded the role of the dog, making him more humorous and key to narration, and made the show "multimedia" in a way only possible with live theatre. The kids loved it when a mist was sprayed over them to evoke the mist of a spring morning. These were not mere distractions, they formed a bridge that helped young minds to grasp the importance of the story's message.
The Man Who Planted Trees is a great story, brought to life by consummate theatrical storytellers, and should be seen by people of all ages. It's a funny, tender, and meaningful work that you will carry in your heart long after the performance is through.

http://www.comedyfestival.com.au/2013/season/shows/the-man-who-planted-trees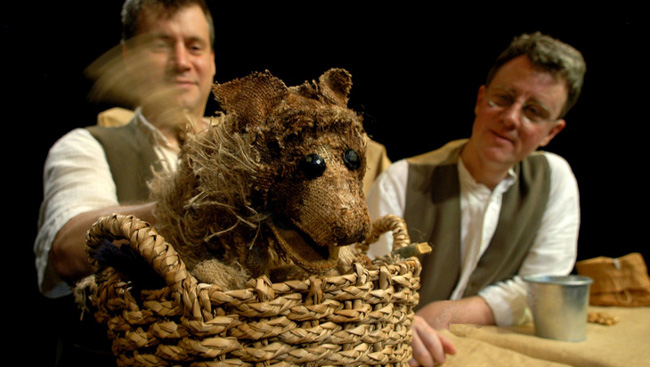 Peace and kindness,
Katherine
RSS Feed

Categories

Archives

Blogroll