Child Safe (Not Suitable for Children)
Posted on 19 March 2013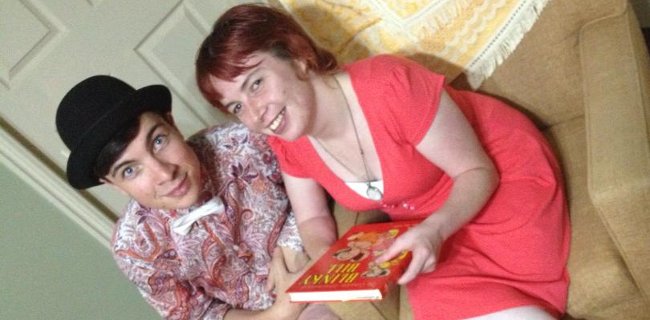 This year the lovely Tansy Bradshaw asked if I would help with her show Child Safe (not suitable for children). She needed someone to help co-write and direct the show, as well as take on some production responsibilities.
It's been a wonderful journey getting to know her and develop the material. Her friend Sean "Paisley" Collins, who was originally going to lend a small hand, has now been written in as a significant character. I always feel like I'm quilting when I get asked to do this sort of work. I take a look at the material, and then with the permission of the artist, cut things up and switch things around, so the whole flows better thematically and we have a nice dramatic rhythm.
Tansy was running a little short of material to fill out her 45 minutes and we needed something with punch near the end. So, I mined remarks she had made on Facebook. That's the first time I have done such a thing, but it was fun. It gave the script a more authentic feeling.
Child Safe (not suitable for children) is a semi-autobiographical fantasy. Tansy takes people through the history of children's literature, pointing out where some of the stories are dodgy by today's standards. Who remembers Mr Golly from the Noddy books? Along the way we learn about what it's like to be a library technician, a creative writing student, and someone dealing with disabilities. To spice things up a character from Peter Pan decides to make an appearance.
If any of this sounds interesting to you, we would love to have you come along and support our show.
Child Safe (not suitable for children)
30-31 March, 1 April
Sat-Mon 6:15pm
The Bull and Bear Tavern
347 Flinders Lane, Melbourne
Peace and kindness,
Katherine
RSS Feed

Categories

Archives

Blogroll