Posted on 22 January 2022 | Comments Off on Acceptance?
Can you accept yourself in silence
     without the validation of important voices,
     or a million voices.

Can you accept yourself without comparison,
     without having to push others down.

Can you accept yourself without being special.
     Can you accept others 
     without their being special.

Can
   you
      find
          the humility
to accept yourself and others as we all are.

Katherine Phelps
22 January 2022
Posted on 19 January 2022 | Comments Off on 'Disappointment and disbelief' after Morrison government vetoes research into student climate activism'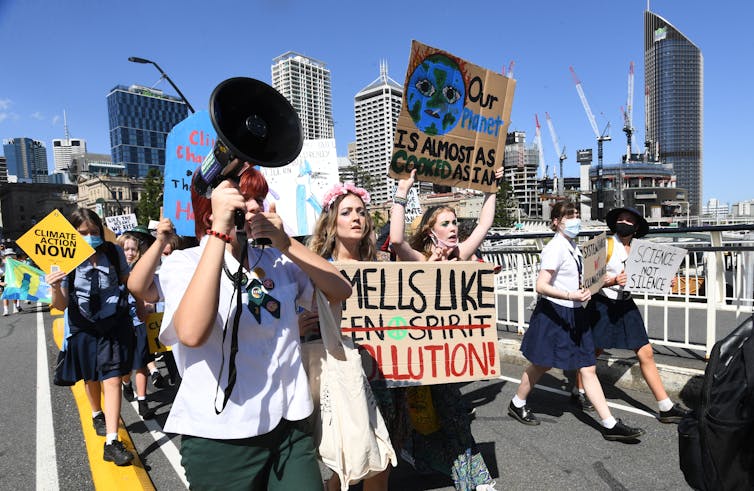 Philippa Collin, Western Sydney University; Brendan Churchill, The University of Melbourne; Faith Gordon, Australian National University; Judith Bessant, RMIT University; Michelle Catanzaro, Western Sydney University; Rob Watts, RMIT University, and Stewart Jackson, University of Sydney
Between 2019 and early 2021, we developed a research proposal asking for funding from the Australian Research Council (ARC). The project was to investigate the mass student climate action movement and its relationship to democracy.
A few weeks ago, on Christmas Eve, we learnt via Twitter that the ARC had recommended our research proposal for funding, but acting Education Minister Stuart Robert vetoed the recommendation.
Robert also vetoed five other humanities projects. He did so on the grounds they "do not demonstrate value for taxpayers' money nor contribute to the national interest".
This political intervention is a problem for many reasons. Chief among them, it breaches key principles of academic autonomy and – in our case, also silences research working with young people on a crucial policy issue.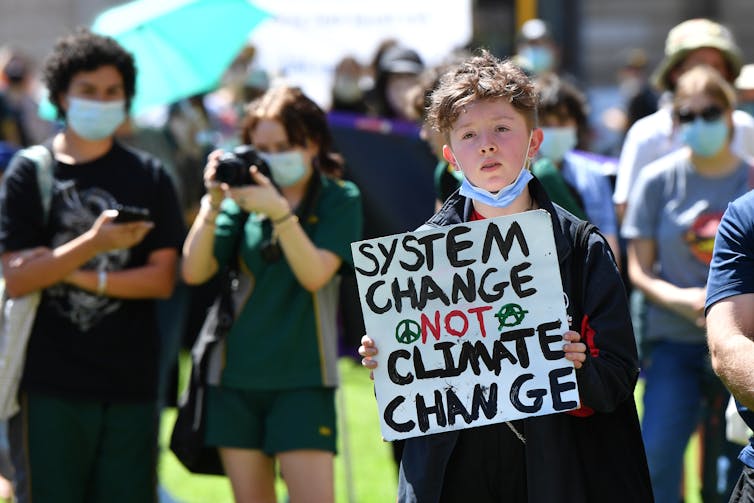 'Freedom in research and training'
Since 1988, almost 1,000 universities in 94 countries have signed the Magna Charta Universitatum, including ten from Australia. The charter affirms the deepest values of university traditions.
In practice, it means a university "must serve society as a whole" and that "to meet the needs of the world around it, its research and teaching must be intellectually independent of all political authority and economic power".
Central to the charter is that "freedom in research and training is the fundamental principle of university life".
The ARC administers the National Competitive Grants Program, which delivers around $800 million to Australian researchers each year.
The ARC grants process involves several rounds of rigorous review and assessment, by internationally leading scholars. The ARC then recommends to the education minister which proposals should be funded, and the budget. The minister makes the final funding decisions.
The Morrison government claims it wants to protect academic freedoms. And it commissioned a 2019 review of freedom of expression and intellectual inquiry in higher education.
However, Robert's veto of the ARC's decision to fund six projects is a clear breach of the core principle of academic freedom.
What's more, it's not the first time Morrison government education ministers have ridden roughshod over the funding processes of the ARC and university research.
In 2018-19, Simon Birmingham vetoed 11 research grants recommended by the ARC. In 2020, Dan Tehan vetoed five.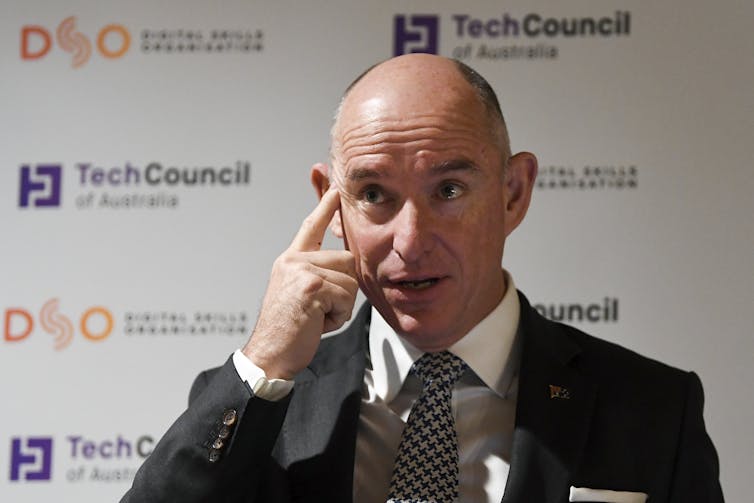 An important new phenomenon
The project we proposed for ARC funding was titled "New possibilities: student climate action and democratic renewal". It involved working directly with young people to investigate a significant new phenomenon.
Since 2018, millions of students across the globe have worked hard as leaders, organisers and advocates for action on climate change. Their actions include the school strikes for climate and various legal actions. In Australia since 2018, we estimate at least 500,000 school students have participated in the movement, including coordinated school strike actions online and in the streets.
Our project was designed to document such actions and to establish:
why young people participate
what activities they undertake
what we can learn from the movement to address climate change and strengthen our democracy.
Our project would have led to vital new knowledge on a global phenomenon. It had the potential to help address falling trust in governments and dissatisfaction with democracy, and to give new insights on engaging with young people in learning about and responding to climate change.
It also provided jobs for early-career researchers already facing cripplingly precarious employment in the university sector.
Our proposal relied on a vast body of academic work and expertise, and previous scholarship by the research team. It was connected to a global research network exploring young people's climate politics and broader possibilities for democracy.
Developing the proposal involved hundreds of hours of additional research, writing, editing and consultation with professional staff across five universities.
For the ARC to judge the project worthy of funding, it must have determined it passed the national interest test and that it was value for money.
Significantly, we have no formal right to appeal the decision.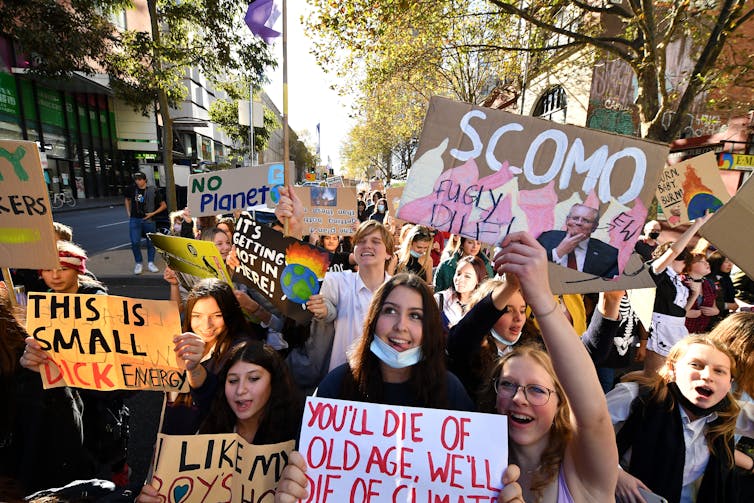 'Disappointment and disbelief'
The minister's intervention is a serious blow to Australia's reputation for research excellence and its commitment to academic freedom.
The Morrison government has also sent a negative message to Australia's young people – essentially saying research into their views on climate change is irrelevant.
We asked students who we work with to respond to the government's veto, and they stand with us in disappointment and disbelief. Audrey, aged 10, who has participated in climate action, said:
"I personally think that the vetoing was to stop the research from public view to make the government look better, as they aren't doing enough on climate change. Another main reason why the vetoing is so bad and unfair is that the government is sending the message that young people's views aren't important to both young people and the community."
Urgent change is needed to ensure academic autonomy, freedom, and independence of process are not subject to political interference in future.
Addressing urgent and complex problems such as climate change involves research across the full spectrum of society – and that includes Australia's young people.
Philippa Collin, Associate Professor, Institute for Culture and Society, Western Sydney University; Brendan Churchill, ARC Research Fellow and Lecturer in Sociology, The University of Melbourne; Faith Gordon, Associate Professor in Law, Australian National University; Judith Bessant, Professor in School of Global, Urban and Social Studies, RMIT University; Michelle Catanzaro, Senior Lecturer in Design / Senior Research Fellow (YRRC), Western Sydney University; Rob Watts, Professor of Social Policy, RMIT University, and Stewart Jackson, Senior Lecturer, Department of Government and International Relations, University of Sydney
This article is republished from The Conversation under a Creative Commons license. Read the original article.
Posted on 7 January 2022 | Comments Off on Why Aren't Writers Paid Better?
This was a question put to people in an online writers group I am subscribed to. Below is my answer.
Artists sit in an odd space where they are both loved and hated.
They can lift us out of our daily struggles, soothe our trembling hearts, say the things we want to say, shine a light on what is good and what is bad in the world, and provide visions of the future.
They are hated because they reveal our dark sides, point out wrongdoing, have influence over how people think and feel, are doing what they love rather than slaving away at a thankless job, they seemingly skip the queue for wealth and status through fame, and they get the attention others want.
Artists are often treated as enemies of the state. They can also be treated as enemies of the people for stripping away the lie that if you just work hard and not make waves, you will have a secure if not exactly happy life. Artists often stir up self-reflection and many people don't like themselves or their lives enough to withstand this.
All of this adds up to artists being a class of people others want to control. These controllers want to either use artistry for their own benefit, or severely constrain art to what is "safe". Keeping a class of people seriously insecure, while offering up a few safe examples of their people who have made it big, is a good way to do this.
This causes people to emulate the current stars of their art form, hoping that with hard work and not making waves, they too can do what they love while being rich and famous. Does this have a familiar ring? Artists also end up competing with one another, tearing each other apart in jealousy, rather than cooperating and supporting one another. After all only a few can achieve the extreme pinnacle that corporate media makes possible.
There are things that can be done, but they require we as artists see ourselves with more humility, that we work hard to help create culture change, and that we participate in politics. And I'm sure just saying that is making people feel nervous. Writers especially can be conflict averse. This doesn't have to be about conflict, it can be about caring. Even so, some people will be angry with you for defending the poor for instance.
What can I say? Please take what courage you found to be an artist and use it wisely and well.
Posted on 1 October 2021 | Comments Off on Our League
Take a deep breath. Now take a moment to cherish all the kind, strong, and committed people in your life. They along with yourself are the league of ordinary people who can save us. Now go out and empower one another!
In peace and kindness,
Katherine
Posted on 27 July 2021 | Comments Off on Leave the Cocoon Behind
Our culture tends to worship the past and fear the future. We make statues to people who are gone, but fear the changes the future represents, and so tell stories about surviving a bad future where nothing about ourselves has changed. We need more stories where we represent ourselves as caring and mature people who can grow…and it is safe to do so. Growth is only loss in the way that a butterfly loses its cocoon. Understand that if you only focus on the cocoon, you won't spread your wings and fly. The future can be better. We can make it so.
Peace and kindness,
Katherine
Posted on 17 July 2021 | Comments Off on Baby Steps to Culture Change
So many practical things we can do to repair our living world. So many things that don't get done properly when people don't connect with each others humanity, or every being's desire to live and to thrive.
"Funktionlust", according to behavioral scientists, is the characteristic whereby animals enjoy doing the things which keep them alive. Animals who run, like running. Animals who climb, like climbing. Since animals need to eat, they enjoy eating. We all feel joy and pain according to how well we are able to function within our environment. Some research suggests various plants have a similar experience.
Humans have a real problem when we cut off our ability to recognise others pain or joy in order to serve a felt need for status and dominance. Other animals indulge in hierarchies. A few other animals have wiped out their sources of food, and thereby wiped themselves out. We are so effective that we are taking down a whole planet with us.
Logic is failing to convince us to do the right thing. We have a tremendous capacity for empathy, because it is critical to cooperation. We even enjoy empathising, which is why we enjoy stories. Re-engaging our empathy is a good way to quieten our dominance behaviour and start seeing things from other's perspectives: the first step to start doing what it takes to repair things for everyone.
At least so says the professional storyteller. ¯\_(ツ)_/¯
Peace and kindness,
Katherine
Posted on 22 April 2021 | Comments Off on On Human Rights and the Environment
We have many pressing issues that require international cooperation. Issues to do with the environment, pandemics, refugees, and more need to be addressed collectively by humanity. Having a body such as the United Nations is important for people's ability to think of ourselves as in partnership for creating a more peaceable world.
The United Nations is a flawed institution. Representatives are appointed by their governments, and not voted upon by their populace. So, this institution seems distant and of little relevance to the lives of most common people. Worse is the structure of the UN Security Council which gives more power to the powerful, rather than sharing tasks of equal concern to all. Nevertheless, the United Nations has kept us talking with one another.
We have some gaping holes in our international efforts to create that peaceable world. I have heard it said (please help me find the quote), that you can learn from a culture by what it doesn't say about itself, as much as by what it does.
The UN Universal Declaration of Human Rights says nothing about universal economic parity among the peoples within and between countries. So long as there is a significant gap between the haves and the have nots, there will be a similar significant gap in power. No country that has such a gap is truly democratic. And when this gap opens wide between countries, we see some of the worst human rights abuses. We need a UN Universal Declaration of Economic Rights that explicitly addresses wealth inequities and their resolution. Simply making the poor less poor will never be enough.
The Universal Declaration of Human Rights also does not address environmental rights. Humanity is but a subset of all living being. Our very existence relies on the health and well-being of the planet as a whole. Our human rights are meaningless in a world dying from misuse. The UN World Charter for Nature (1982) is an excellent document for filling the gap. The vote was 111 for, one against (United States), 18 abstentions. Sadly, it was intended to exert political and moral force, but not legal force on member states. To the best of my research and knowledge the US stated that the declaration was laudable, but did not wholly agree with its terms, and therefore voted against it. What it found disagreeable was not publicly expressed.
In 1994 a declaration of principles on human rights and the environment was drafted at the United Nations Geneva. The document went no further than this stage, and yet what it expresses is well worth our consideration. I am helping to preserve this document by posting it here.
UN Draft Principles On Human Rights And The Environment, E/CN.4/Sub.2/1994/9, Annex I (1994).
On 16 May 1994, an international group of experts on human rights and environmental protection convened at the United Nations in Geneva and drafted the first-ever declaration of principles on human rights and the environment.
The Geneva group assembled at the invitation of the Sierra Club Legal Defense Fund–in cooperation with the Association mondiale pour l'école instrument de paix and the Société suisse pour la protection de l'environnement- -on behalf of Madame Fatma Zohra Ksentini, Special Rapporteur on Human Rights and the Environment for the United Nations Sub-Commission on Prevention of Discrimination and Protection of Minorities.
As U.N. Special Rapporteur, Mme Ksentini has since 1989 presided over a study of the connections between human rights and the environment. Mme Ksentini's final report to the Sub-Commission is due in August 1994. The final report will include the Draft Declaration produced at the Geneva Meeting of Experts.
The Draft Declaration is the first international instrument that comprehensively addresses the linkage between human rights and the environment. It demonstrates that accepted environmental and human rights principles embody the right of everyone to a secure, healthy and ecologically sound environment. The Draft Declaration describes the environmental dimension of established human rights, such as the rights to life, health and culture. It also describes the procedural rights, such as the right to participation, necessary for realization of the substantive rights.
The Draft Declaration also describes duties that correspond to the rights–duties that apply to individuals, governments, international organizations and transnational corporations.
---
Draft Declaration of Human Rights and the Environment:
Preamble
Guided by the United Nations Charter, the Universal Declaration of Human Rights, the International Covenant on Economic, Social and Cultural Rights, the International Covenant on Civil and Political Rights, the Vienna Declaration and Program of Action of the World Conference of Human Rights, and other relevant international human rights instruments,
Guided also by the Stockholm Declaration of the United Nations Conference on the Human Environment, the World Charter for Nature, the Rio Declaration on Environment and Development, Agenda 21: Programme of Action for Sustainable Development, and other relevant instruments of international environmental law,
Guided also by the Declaration on the Right to Development, which recognizes that the right to development is an essential human right and that the human person is the central subject of development,
Guided further by fundamental principles of international humanitarian law,
Reaffirming the universality, indivisibility and interdependence of all human rights,
Recognizing that sustainable development links the right to development and the right to a secure, healthy and ecologically sound environment,
Recalling the right of peoples to self-determination by virtue of which they have the right freely to determine their political status and to pursue their economic, social and cultural development,
Deeply concerned by the severe human rights consequences of environmental harm caused by poverty, structural adjustment and debt programmes and by international trade and intellectual property regimes,
Convinced that the potential irreversibility of environmental harm gives rise to special responsibility to prevent such harm,
Concerned that human rights violations lead to environmental degradation and that environmental degradation leads to human rights violations,
THE FOLLOWING PRINCIPLES ARE DECLARED:
Part I
1. Human rights, an ecologically sound environment, sustainable development and peace are interdependent and indivisible.
2. All persons have the right to a secure, healthy and ecologically sound environment. This right and other human rights, including civil, cultural, economic, political and social rights, are universal, interdependent and indivisible.
3. All persons shall be free from any form of discrimination in regard to actions and decisions that affect the environment.
4. All persons have the right to an environment adequate to meet equitably the needs of present generations and that does not impair the rights of future generations to meet equitably their needs.
Part II
5. All persons have the right to freedom from pollution, environmental degradation and activities that adversely affect the environment, threaten life, health, livelihood, well-being or sustainable development within, across or outside national boundaries.
6. All persons have the right to protection and preservation of the air, soil, water, sea-ice, flora and fauna, and the essential processes and areas necessary to maintain biological diversity and ecosystems.
7. All persons have the right to the highest attainable standard of health free from environmental harm.
8. All persons have the right to safe and healthy food and water adequate to their well-being.
9. All persons have the right to a safe and healthy working environment.
10. All persons have the right to adequate housing, land tenure and living conditions in a secure, healthy and ecologically sound environment.
11 . All persons have the right not to be evicted from their homes or land for the purpose of, or as a consequence of, decisions or actions affecting the environment, except in emergencies or due to a compelling purpose benefiting society as a whole and not attainable by other means. All persons have the right to participate effectively in decisions and to negotiate concerning their eviction and the right, if evicted, to timely and adequate restitution, compensation and/or appropriate and sufficient accommodation or land.
12. All persons have the right to timely assistance in the event of natural or technological or other human-caused catastrophes.
13. Everyone has the right to benefit equitably from the conservation and sustainable use of nature and natural resources for cultural, ecological, educational, health, livelihood, recreational, spiritual or other purposes. This Includes ecologically sound access to nature.
Everyone has the right to preservation of unique sites, consistent with the fundamental rights of persons or groups living in the area.
14. Indigenous peoples have the right to control their lands, territories and natural resources and to maintain their traditional way of life. This includes the right to security in the enjoyment of their means of subsistence.
Indigenous peoples have the right to protection against any action or course of conduct that may result in the destruction or degradation of their territories, including land, air, water, sea-ice, wildlife or other resources.
Part III
15. All persons have the right to information concerning the environment. This includes information, howsoever compiled, on actions and courses of conduct that may affect the environment and information necessary to enable effective public participation in environmental decision-making. The information shall be timely, clear, understandable and available without undue financial burden to the applicant.
16. All persons have the right to hold and express opinions and to disseminate ideas and information regarding the environment.
17. All persons have the right to environmental and human rights education.
18. All persons have the right to active, free, and meaningful participation in planning and decision-making activities and processes that may have an impact on the environment and development. This includes the right to a prior assessment of the environmental, developmental and human rights consequences of proposed actions.
19. All persons have the right to associate freely and peacefully with others for purposes of protecting the environment or the rights of persons affected by environmental harm.
20. All persons have the right to effective remedies and redress in administrative or judicial proceedings for environmental harm or the threat of such harm.
Part IV
21. All persons, individually and in association with others, have a duty to protect and preserve the environment.
22. All States shall respect and ensure the right to a secure, healthy and ecologically sound environment. Accordingly, they shall adopt the administrative, legislative and other measures necessary to effectively implement the rights in this Declaration.
These measures shall aim at the prevention of environmental harm, at the provision of adequate remedies, and at the sustainable use of natural resources and shall include, inter alia,
collection and dissemination of information concerning the environment
prior assessment and control, licensing, regulation or prohibition of activities and substances potentially harmful to the environment;
public participation in environmental decision-making;
effective administrative and judicial remedies and redress for environmental harm and the threat of such harm;
monitoring, management and equitable sharing of natural resources;
measures to reduce wasteful processes of production and patterns of consumption;
measures aimed at ensuring that transnational corporations, wherever they operate, carry out their duties of environmental protection, sustainable development and respect for human rights; and
measures aimed at ensuring that the international organizations and agencies to which they belong observe the rights and duties in this Declaration.
23. States and all other parties shall avoid using the environment as a means of war or inflicting significant, long-term or widespread harm on the environment, and shall respect international law providing protection for the environment in times of armed conflict and cooperate in its further development.
24. All international organizations and agencies shall observe the rights and duties in this Declaration.
Part V
25. In implementing the rights and duties in this Declaration, special attention shall be given to vulnerable persons and groups.
26. The rights in this Declaration may be subject only to restrictions provided by law and which are necessary to protect public order, health and the fundamental rights and freedoms of others.
27. All persons are entitled to a social and international order in which the rights in this Declaration can be fully realized.
Posted on 15 February 2021 | Comments Off on Utopia
We all need a vision that draws us to a healthier, more prosocial and life-affirming future. Having that vision gives us a destination, but also makes it easier to find the specific steps needed to create the vision's embodiment.
This episode of Stories Make the Future is about creating a vision of a functional future rather than a perfect one: something more likely to lead to a utopian future with which we can live.
Posted on 15 February 2021 | Comments Off on Core Values
I believe in the value of human life in all its diversity.
I believe in the value of our living world in all its diversity.
I understand we live in a world that includes violence, cruelty, and unfairness.
We also live in a world where peace and compassion have created change.
From my experience the means by which you achieve your goals are part of the goals themselves.
You cannot achieve peace through violence.
However, you cannot achieve peace by allowing violent people to get their way.
They will simply knock you down and damage more people and more of life.
Forgiveness is not release from responsibility.
Unity is not about meeting destructiveness half way.
We must be unified for something.
Let that be a unity founded on universal well-being:
everyone and every living thing has the opportunity to live secure lives.
We must look to a future where our lives are valued
not because we are special,
but simply because we are human and alive.
In peace and kindness,
Katherine
Posted on 27 December 2020 | Comments Off on Thoughts Going into 2021
I am seriously concerned going into 2021. I hope I am wrong.
We seem to be descending into greater and greater hostility. My sense is that people are rightfully feeling endangered. However, their solution is to hit at easy targets rather than coming together to create culture change.
For instance those who are suffering from the deep social inequalities our culture is creating, instead of collectively acting to remove power from those who are hoarding wealth, turn to those who are weak or weaker than they and bully them for "stealing" jobs. In this way nothing changes and we are all worse off.
I wrote the below after a mostly sleepless night.
___
There is no peace without justice.
There is no justice where there is vengeance.
Fear is understandable.
Hatred is not the tool by which you overcome fear and oppression.
Tit for tat means you are playing by the monster's handbook and learning to be a monster yourself.
Ask yourself–if I do this, am I any better than my enemies?
Always self-examine, because none of us is perfect.
Be willing to give second-chances, but question third or fourth chances.
You do not create a better world by allowing people to walk all over you.
No person is without flaws, no community is without flaws. One of the most dangerous things we do to ourselves and others is not acknowledge this.
Question the values of your oppressors. Do not perpetuate a culture of oppression by internalising their values.
Question the values of your own culture. You do not get a free pass to oppress others because you are part of an oppressed community.
Most especially do not protect those of your own, who are abusing your members, simply because they are public figures or figures of authority. You can create new public figures and new leaders. The sting of shame will pass, but damage to your own if these individuals are not called to justice can last lifetimes.
You cannot forcibly change people, you can only be there for them when they are ready to change.
The best way to create change is to be a good example of what you want to see in the world.
We need to be worried about how hostile we have all become.
We need to be worried about how self-absorbed we have all become.
Right now the planet needs our cooperation and goodwill.
You personally do not have to show kindness toward those who are doing you genuine harm, but do not perpetuate hostility.
Then we have to find each other by practising friendliness and social care.
In peace and kindness,
Katherine
RSS Feed

Categories

Archives

Blogroll