Posted on 8 April 2014 | No responses
Compassion fatigue is the term sometimes used to describe people losing their ability to care, because they feel inundated by reports of tragedy and suffering. Their sense of overwhelm makes them feel powerless to help. This results in a disastrous cynicism that keeps people from enacting positive change.
Events such as Squeaky Clean Comedy…On Yard Duty help to keep the tone light, while still engaging with the need to help. This year the Squeaky Clean event is in aid of World Vision and their campaign to help improve the education available to aboriginal children. This is no small endeavour.
In the five year period from 2006 to 2010 530 Aboriginal and Torres Strait Islander children died who were less than five years old. Aboriginal children are thirty times more likely to suffer from malnutrition and anemia due to iron deficiencies than other Australian children. In the Northern Territory only 13% of Aboriginal homes have functioning water, waste, cooking, and cleaning facilities. We must address basic needs. We must also help provide the means for these children to achieve self-determination and self-sufficiency.
Your ticket to this event helps World Vision and their education initiatives. It's an easy trade. And for your time and money you are treated to some solid, top-class comedy and performance.
The MC for the evening is rising comedy star Michael Connell. His humour bears close resemblance to UK comedy superstar Michael McIntyre (maybe it's the first name that does it). He provides a warm and jovial presence that effortlessly pulls the two hours of entertainment together.
Performers include charming ventriloquist Sarah Jones and her puppet friend Kitty, circus performers Trash Test Dummies, the boyishly cheeky Jason Chong (doing my favourite routine of his which involves a Transformer mask), thrilling wordsmith Joel McKerrow, and laugh out loud funny comedians Mike Klimczak and Danny McGinlay.
This was a solid line up of entertainment, not a clunker in the bunch. On the countrary, we had smooth professional entertainment the equal of the Melbourne International Comedy Gala. They carefully kept the show informative without pressurising the audience. People walked away feeling happy and generous. Excellent job.
Go, have fun, and make the world a little better.
7:30pm Saturday 12 April
Melbourne City Conference Centre
333 Swanston St, Melbourne
Tickets: www.comedyfestival.com.au/2014/season/shows/squeaky-clean-comedy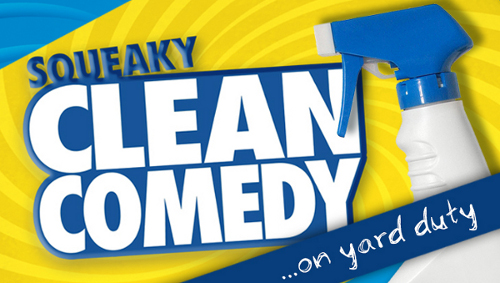 Peace and kindness,
Katherine
Posted on 7 April 2014 | No responses
Puns are a complex form of wordplay. Because we have a limited set of phonetics with which to express ourselves, sometimes we have two entire sets of concepts finding themselves overlapping. Finding parallels and relationships between these concepts takes a certain amount of intellect.
Children are fond of puns precisely because they are strengthening their skills with both language and concepts, while playing with the absurd. Puns did not always elicit groans. People used to simply laugh and think, how clever. But the groans aren't bad, they are often a sign of recognition when our brain catches up with the full implications of a particular pun. A good pun should have a groan followed by a laugh.
Jen Wong's Laughable: The One Liner Show is replete with puns. She does have the odd one-liner, but for the most part this is a celebration of story and language. Wong's comedy is clever and demonstrates a quick wit.
One of the more remarkable aspects of this show is how Wong is able to make it an interactive event. She hasn't just written puns: she asks people about themselves, has them add to a story she is telling in a "choose your own adventure" fashion, then makes up puns on the spot. This is truly raw comedy of the highest calibre. And it's all so light and breezy, it's easy to forget what sophisticated skill had to go into making Laughable.
Jen Wong is an exceptional talent. Laughable: The One Liner Show is a real treat. I laughed very hard the whole hour. This is an easy pleaser for almost any type of audience. So, if you don't know what to see during the comedy festival give Laughable a try, you can't go Wong (or maybe you can!).
Tickets: www.comedyfestival.com.au/2014/season/shows/laughable-the-one-liner-show-jennifer-wong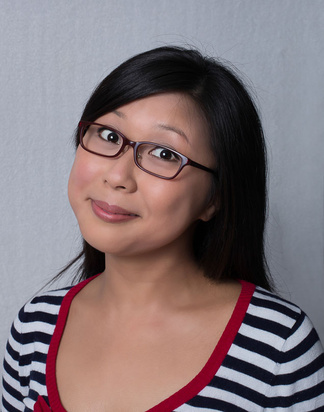 Peace and kindness,
Katherine
Posted on 6 April 2014 | No responses
Australian mining is big business. Yet, how many people know the inside story of what mining is like for the workers: where do they live, what do they eat, what are working conditions like. Xavier Toby takes us on a tour of mining's innermost workings.
After "following his dreams" and participating in the Edinburgh Fringe Festival. Toby found himself in considerable debt. The solution he decided upon was to call an uncle who could arrange a job for him in Western Australian mining as a "fly in fly out" worker. Aspects of this show are a cautionary tale for young comedians. I strongly suggest you go and get a dose of reality.
Mining is certainly a way to make money fast, but before long Toby has everyone considering, is it really worth it: working in extreme heat, living in tiny dorms, coping with hazing, and under-reported accidents. But hey! the food is great!
Toby weaves a series of delightful and shocking stories with genuine charm. He keeps the audience on the edge of their seats: will Toby survive these ordeals? His endearing desire to make friends throughout his adventures in blokeland provide much giggle worthy pathos. Despite a "lack of acting skills" his expressive antics add much to the flavour of the show.
Mining My Own Business is informative and big laugh funny. Go see Xavier Toby in his Hawaiian shirt—it's worth it.
Tickets: www.comedyfestival.com.au/2014/season/shows/mining-my-own-business-xavier-toby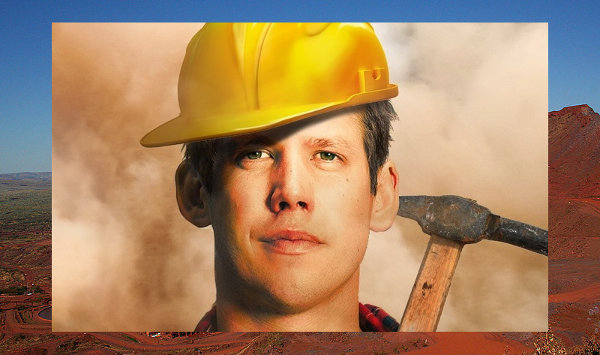 Peace and kindness,
Katherine
Posted on 4 April 2014 | No responses
A recent scientific study found evidence that people become more empathetic after reading certain sorts of fiction. Basically, you imagine what it is like to be certain characters in order to follow the plot, thereby gaining an emotional connection. What I love about live comedy shows is that we imaginatively enter so many different people's worlds, discover what their lives are like, and learn to care about them through humour.
Stella Young is a talented comedian, journalist, and disability advocate. She has Osteogenesis imperfecta, a form of dwarvism that causes her to have brittle bones. When people are categorised and kept separated because it is more "convenient", for whom is of course the question, we start losing the ability to understand or empathise with the diversity that is humanity. Hearing stories such as Young's helps to bridge the gap.
Young's humour is intelligent and delightfully goofy. The stories she tells about how other people cope with her disability takes the blinkers off our often limited vision of what it's like to be Young, or anyone else with significant variations from the mainstream.
She covers the different words for "crips", takes us through a 1970s book on how to treat the disabled, tells us about her experiences with sex, and the time she was on a television show with a scientist who was promoting eugenics. My favourite story had to do with a child believing Young was an imaginary friend.
Tales from the Crip is a wonderful evening of entertainment. Young's skill and professionalism deserve bunches of stars. Tell me how many you want Stella Young, and you've got them from me.
Tickets: www.comedyfestival.com.au/2014/season/shows/tales-from-the-crip-stella-young-in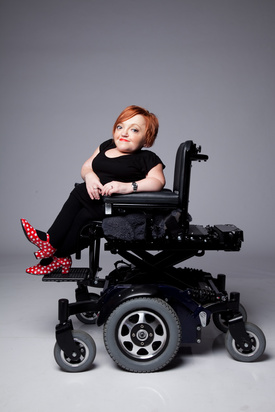 Peace and kindness,
Katherine
Posted on 4 April 2014 | No responses
Laura Davis is cute and girlish. And like some comedians who ooze boyish charm, she is intelligent, insightful, and quick-witted with some important things to say. She is equal parts comedian and artist in her efforts toward making people think and feel, as well as laugh.
Her show Pillow of Strength could be seen as an expression of feminist concerns, but it goes so much deeper, since the issues affect all of us. She goes from discussing abuse of power in a relationship to abuse of power by the media and advertisers. We are all made to be somebody's "bitch" in our current system.
When approaching social/political commentary in comedy or elsewhere, if we are serious about a desire to create change, we need to think about the processes that make it possible. In that way our commentary can be stronger and more useful.
The first step is locating the problem. We all love to think how clever we are, because we know enough to judge others. This is not the same as having insight and recognising the bigger picture. Davis for instance was completely aware that the issue isn't whether a woman should be fat or thin, but rather no one should be judged for aesthetics or the attributes with which they were born, whether it's weight, gender, ethnicity, ableism, etc. The quality of a person's character, something they choose and develop, is much more important.
The next step is to propose and develop solutions. This doesn't happen very often in comedy, but upon occasion someone throws out an idea "so crazy, it just might work". Even flights of fantasy get people's brain cells working on the problem. This is also the antidote to disempowerment and cynicism. A light can be seen at the end of the tunnel.
The third step is to educate and recruit. Help others to understand the problem and recruit them to implement a solution. It's no good sitting around in an exclusive group feeling self-righteous. Nothing gets done that way. You have to learn how to reach out and cooperate with others. Be very careful about comedy that alienates or belittles. It will give you a lot of easy laughs with a jaded audience, but it will serve to further polarise and atomise people, when now more than ever we need people working together to stop environmental and economic disaster.
The final step is to take long term action. You can hold a "we hate Tony Abbott" protest, but if you cause him to be removed as Prime Minister, he may be replaced by another Liberal Party member with equally egregious policies. And what if Labor gets into power and continues human rights abuses against minorities and boat people? Stay focussed on the issues. Know that achieving goals such as fair treatment of gays may be a long haul endeavour. Bolster one another's efforts. Help one another to find resilience. Regularly partake of tonics such as joy and laughter. Comedy helps us to speak the truth, it also gives us strength through a lifted spirit.
Laura Davis's goals in Pillow Fight are admirable. I think her gentle delivery the night I attended was pitch perfect: just confronting enough, combined with the life-affirming. Go give her some support.
Tickets: www.comedyfestival.com.au/2014/season/shows/pillow-of-strength-laura-davis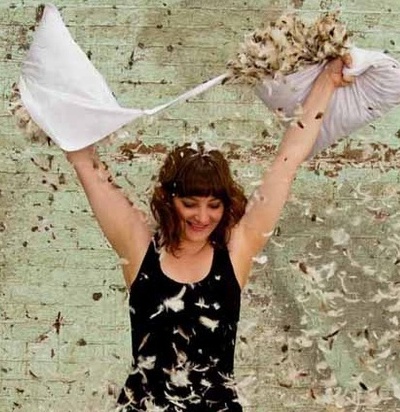 Peace and kindness,
Katherine
Posted on 3 April 2014 | No responses
One famous urban legend has it that Ernest Hemingway once wrote a story in under ten words on a bet. The story goes: "Classified: Baby Goods. For sale, baby shoes, never worn." It has never been confirmed, but started circulating when the event was dramatised for a play called Papa about Hemingway.
The thought of such a story inspired many people to explore "microfictions". These can be 6-word stories, 25-word stories, 50-word stories, 100-word stories, 140-character stories (of course Twitter got into the act). One of my favourites is by Alan Moore, author of The Watchmen: "Machine. Unexpectedly, I'd invented a time"
Simon Keck in Let's Write a Book explores the world of unusual literary forms: microfiction, flash fiction, collaborative fiction. He probably should have included choose-your-own-adventure as well. This is a rich if little known field of creative endeavour with plenty of scope for big laughs.
Keck began his show with a collaborative fiction. He asked the audience to add sentences to a story without knowing anything about previous events in the narrative other than the directly preceding sentence. This is really the party version of a famous literary game first played in 1931 by the fourteen members of the Detection Club. The club included such luminaries as Agatha Christie and G.K. Chesterton. The resulting book was entitled The Floating Admiral. The resulting story for the show provided some laughs, but could have been more developed.
We are then treated to a series of flash fictions Keck has written which we were to "applaud" by throwing pieces of wadded up paper at him. The stories were humorously conceived and made for lighthearted reading. Felicity Ward explored this territory in 2009 with her show The Book of Moron. This was followed by two sentence stories people had contributed to Keck online.
Let's Write a Book has tremendous potential as a show and a ready made audience with the writing community (which is larger than you might imagine). Keck is a skilled comedian with plenty of laddish charm. I have a feeling I saw the show a little too early in the season, because it still needs some filling out. However, the very nature of live comedy is that it can grow and change from show to show. That's what makes it so much more exciting than anything on a screen. The right seeds are here, so I expect great things in the coming performances, you should too.
Tickets: comedyfestival.com.au/2014/season/shows/let-s-write-a-book-simon-keck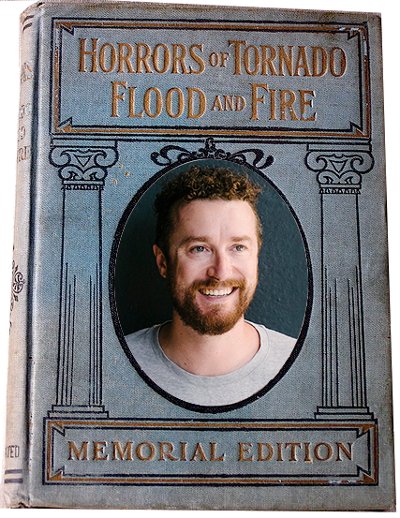 Peace and kindness,
Katherine
Posted on 2 April 2014 | No responses
Angus Hodge is a remarkably talented young man. Of all the types of comedy he could have chosen to pursue, he has opted for raconteur. This isn't usually a young person's art form. Life experience and a solid understanding of story structure are key elements to making raconteurship work.
Nevertheless, Hodge shows a remarkable awareness and self-awareness when it comes to the events in his life. He then has a keen enough intelligence to postulate some meaning surrounding these events. How many guys would A) hang out with a group of women, then B) recognise they are feeling emasculated by having the smallest cup of coffee? It's a humorous moment, it also requires some insight to find the funny.
At this stage in his career Hodge is focusing on stringing together funny vignettes. My favourite were his camping vignettes, having shared similar experiences when my family would travel to the countryside. His story about the trouble his father got into by swatting a hornet was priceless. A number of comedians are still making careers out of that style of comedy. But Hodge was playing around with call-backs and regularly hinted at a recent break-up ("this isn't a break-up show").
One of the finest raconteurs I know of is Irish comedian Ed Byrne. I have heard him run two stories simultaneously, until they come colliding spectacularly at the end of his show. These stories at first seemed unrelated, but by the conclusion it all amazingly fits together. That's the sort of prowess Hodge is capable of developing.
Finding My Rose Coloured Glasses is a delightful evening of uplifting humour. Something you could take a date to before heading off to a nice restaurant. Angus Hodge is a talent worth watching out for.
Tickets: www.comedyfestival.com.au/2014/season/shows/finding-my-rose-coloured-glasses-angus-hodge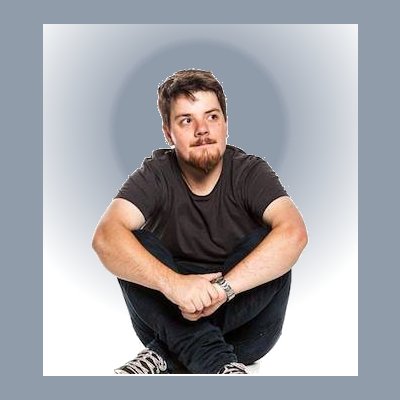 Peace and kindness,
Katherine
Posted on 1 April 2014 | No responses
Scienceworks presenter Tom Lang takes Melbourne audiences on a tour of the sillier side of animal sex. We learn things about love darts (ouch!), real boners, and how the animal kingdom enjoys a little French farce upon occasion.
Lang has a delightfully engaging style that puts him on a par with Dr Chris Brown of Bondi Vet fame. His degree in science communication serves him well as he lucidly explains the, um, ins and outs of reproduction. This is not a lurid show, but as Lang admitted to me, "It's basically a lot of dick jokes." But how offended could anyone be when he starts with talking about plant sperm?
Props and multimedia are used to good effect, ensuring the audience has a clear understanding of the points Lang makes about each of his subjects. The fur covered bucket is hilarious. Other props I don't dare speak about, so as to not spoil the jokes. You will be surprised at what you are allowed to handle.
I would have liked something of a narrative climax by the end of Love Factually, but even without that extra "oomph", this is a charming show. I can completely understand why it's popular with hens nights.
Tickets:
www.comedyfestival.com.au/2014/season/shows/love-factually-tom-lang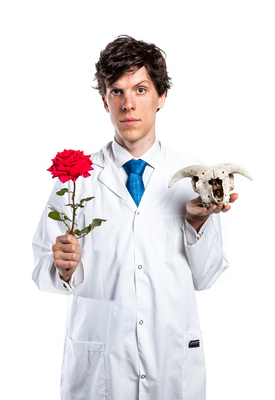 Peace and kindness,
Katherine
Posted on 1 April 2014 | No responses
Iranian born comedian Shappi Khorsandi moved to Great Britain when her father was accused of writing subversive poetry and they had to flee. Khorsandi is now a rising comic star, and its easy to see why. She's smart, witty, and insightful. What impressed me most was the honesty and compassion of her humour.
Her eponymous show promised to include stories "from mental illness to opium dens". We received neither, but we did enjoy an hour of conversation that led to all sorts of delicious observational humour. This may have been due to jet lag, but it resulted in an intimate evening where we could wonder at the state of humanity.
Khorsandi's chat with a lesbian audience member led to a story about introducing a lesbian date to her friends. Her chat with a woman in childcare led to stories about child birth. The connections she built with the audience were warm and genuine.
Khorsandi has a natural rapport with the audience. It is a real joy to observe. I would highly recommend any young comedian wanting to explore the field of observational humour to go to Shappi Khorsandi's show, she is a consummate professional.
Tickets:
www.comedyfestival.com.au/2014/season/shows/shappi-khorsandi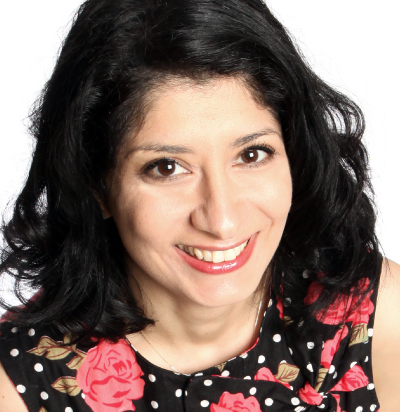 Peace and kindness,
Katherine
Posted on 1 April 2014 | No responses
Cynicism is easy and, although people think it's very clever to be cynical, it is, but ultimately it's unsatisfying.

What's really bold and what is the toughest choice is to talk about love and hope and optimism, and those are the things that people shy away from because they find it awkward or they don't know how to deal with them.

~Steve Coogan
"Steve Coogan Slams 'Myopic And Self-Centred' Stars Who Don't Speak Out On Public Matters"
Huff Post, UK edition, 2014 April 01
Peace and kindness,
Katherine
RSS Feed

Categories

Archives

Blogroll