Posted on 27 February 2014 | No responses
This is what skilled physical comedy looks like. Nathan Barnatt, like Australia's Frank Woodley, is an exceptional talent in this field. He really needs to be scooped up for film or television.
Peace and kindness,
Katherine
Posted on 24 February 2014 | No responses
I have a brother who works in aeronautical engineering. He's crazy about planes and loves his work. The people who work with him are also passionate about their jobs. They are seen as having plum positions, because more people are graduating in the field of engineering than there are available positions. As such the company employing him feels little pressure to ensure their engineers are paid at a level commensurate with other engineering jobs. It's a difficult decision when these engineers finally strike, none of them wants to lose their jobs.
For many years I taught storytelling for computer game design. A number of the game companies in this country were aware that a position with them was considered a dream job. So, they underpaid and overworked their employees until they burnt them out. They were regularly having to replace developers. I tried to encourage the young people in my classes to find work elsewhere or at least skill up to start their own companies.
The comedy industry is a way to get media attention and fame. As such it also suffers from "desirable job syndrome". Any number of people who are crucial to your success can and do use their positions as a way to bully you. Venue owners, festival organisers, publicity companies, media producers, journalists, agents, etc are all in positions where they can threaten and abuse you. When a performer gets famous enough, sometimes they turn around and do the bullying as well.
When the whole Jimmy Savile sex scandal burst into the media people kept asking, why had no one said anything sooner? The answer is easy: he had all the power. He had the money, the media, and the force of popularity on his side. Why would anyone want to risk being further hurt by this man by exposing their pain to the public when confronting him?
Within comedy our desire for success can be such that we allow all kinds of people to walk on us. And when a few comedians have had enough, if the younger comedians undercut an effort to stop abuse, they just ensure they are going to have to travel through hell as well. Don't go thinking that toadying to a few significant figures will help you. You just lose people's respect and actually put a ceiling on your career.
Fear is the enemy of attaining just and respectful behaviour. Willingness to cooperate with one another in gaining fair treatment is crucial. It is true to say that sometimes you just have to take it when someone is dishing up sewage soup. Carefully pick your fights. Sometimes the time is right to lay it on the line. Sometimes you need to say, there are abuses here that need addressing because they are harming me and they are harming a good many others. If this is the case, talk to people and see if you can get any support. I can't guarantee any wins, but you are more likely to see a better world.
One of these day we really need to form an Australian comedy guild.
Peace and kindness,
Katherine
Posted on 18 February 2014 | No responses
Anecdotally I've heard Maria Bamford once said, "You know that hole you feel in your life? It's not a comedy shaped hole."
I've seen far too many people chasing after arts roles hoping that with an adoring audience, they will finally feel validated as a human being. How many people have convinced hundreds of people to "like" them on Facebook, and still it's not enough? It will never be enough.
We all need a certain amount of external validation to feel secure, but at some point you have to feel secure within yourself. If you don't, it will impact on your relationship with your audience.
If you look out at your audience and see nothing but minions to your personal empire, of course you will be angry when they don't laugh at all your jokes. Minions are supposed to laugh on cue. I have seen comedians on off nights go from bad to worse, because they start insulting the punters for not being good enough.
Similarly, some comedians not only want an audience to build them up, they are terrified of an audience tearing them down. As such the relationship can become adversarial. The comedian is unlikely to look into people's eyes, will mumble, and stand in a self-protective slump. In essence they will become your teen son or daughter.
If you do not trust your audience, they will not trust you. An unsteady truce for the purpose of telling a few jokes will not cut it. Ultimately, it will be an act of self sabotage where comedians prove to themselves that they are right for having a low sense of self-esteem.
As a comedian you need to be the life of the party. You want to be vibrant, confident, and charismatic. When you hit the stage you want a presence that is magnetic. And you want to retain your audience's focus by making them feel good. To do this you will need several personal attitudes.
"I belong on this stage."
When you get onto the stage, own it. It's all yours for the entirety of your set. Be the master of all you tread.
"I'm not perfect and that's okay."
Comedy comes from your humanity, not invulnerable perfection. When you let your humanity show, people connect with you better, and you are freer to be funny.
"I expect to have a good time."
If you aren't enjoying it, why are you in comedy? You could be doing something easier and more lucrative any place else. Any validation you get from an audience will be completely invalidated by the unpleasantness of staying on stage when it is tearing you up inside. Expect to have a good time, then go out there and have your own personal party in the spotlight. Woohoo!
"I am dedicated to having a good time together with my audience."
Why do you tell outrageous stories to your mates? So you can all have a good time. Why do you pull a prank on Uncle Davo? So the whole family can laugh. Why do you chase your kids around pretending to be a dinosaur? Because you all love the squeals of excitement when you bond in this way. What you are giving an audience should be no different.
You have no business being on stage if you don't like and respect your audience. The first step to respecting your audience is learning to like and respect yourself. You are human, embrace that with humility and a sense of grand gloriousness!
Peace and kindness,
Katherine
Posted on 13 February 2014 | No responses
We are up and happening! Join us at the Melbourne International Comedy Festival! Join us at The Butterfly Club!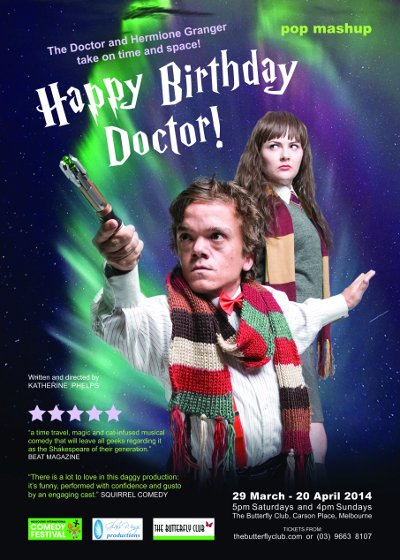 Peace and kindness,
Katherine
Posted on 12 February 2014 | No responses
What a relief. The BBC finds a little enlightenment and makes it a policy that all comedy panel shows must have at least one female. Sadly the below article only speaks with men in the comedy industry about what they think.
The upside is that with more female comedians represented on TV, the field looks more attractive to young women and thereby encourages them to give it a try. The downside is that often when the women become about forty percent of an industry, many men start leaving because they are being "outnumbered", then the wages go down. This is how a pink-collar ghetto is formed. Fingers-crossed that our guys are more broad-minded than that.
BBC confirms plans to end all-male panel show line-ups
Peace and kindness,
Katherine
Posted on 8 February 2014 | No responses
Oh dear, this is a little close for comfort. *SNORK!*
Peace and kidness,
Katherine
Posted on 6 February 2014 | No responses
A healthy democracy requires open discussion of ideas, policies, and the people wielding power. Comedy is an important part of democracy. It demonstrates how forbearing we are of a marketplace of ideas and how tolerant our government is of criticism.
This article by Carrillo Gantner provides practical examples of the relationship between artists/comedians and those in political power:
"Political Interference: When Politicians Try and Steal the Show"
Crikey: Daily Review, 04 February 2014
Peace and kindness,
Katherine
Posted on 3 February 2014 | No responses
A difference exists between humorously critiquing the words and behavior of individuals and putting the hate on them as human beings. A difference exists between critiquing individuals and putting the hate on an entire group of people.
Status is extremely important in our society. While we are growing up we constantly have people telling us that we are getting it wrong in some fashion: parents, teachers, assorted adults. We have clearly made it to the top of some emotional pyramid when we can start pointing out how other people are getting it wrong. The "cool" kids are the ones who push taste by aping adults and making absolute decisions about what and who are important or detestable. This sort of "cool" has more to do with power and bullying.
Below is a table to better understand the distinctions I am making.
| Target | Acceptable | Unacceptable |
| --- | --- | --- |
| Gina Rinehart | Criticise her efforts to eliminate the Mineral Resource Rent Tax. | Mock her weight. |
| Tony Abbott | Criticise the cruelty of his administation's treatment of aboriginal peoples and refugees. | Mock him for being Catholic. |
| Barack Obama | Satirise his administration's record on spying. | Mock him for being black. |
| The Catholic Church | Take to task specific religious leaders for covering up child abuse within their organisation. | Call all Catholics pedophiles. |
When you point out the ethical flaws in the actions of powerful figures, you are potentially providing a service by raising people's awareness of the issues. When you start making blanket judgements of whole groups of people, especially when based on trivialities such as looks, you are merely demonstrating what flavour of bigotry you are carrying around. This doesn't help. It divides and disempowers people. There is no truth and no integrity in this.
Don't ever think that bigotry is the sole domain of the right-wing. When you see a group of people picketing a shop because the owners were born in Israel, not because they had done anything wrong or supported the actions of the Israeli government, then you are observing bigotry in action. Who can help where they were born, the colour of their skin, or the culture in which they were raised? The issue is whether or not with understanding they are perpetuating bad behaviour, not whether they have a fortuitous connection with people who behave badly.
Recently, I discovered that Bill Cosby's 1971 monologue demonstrating prejudice was released into the public domain. It is well worth watching in order to wrap your head around what prejudice sounds like.
Peace and kindness,
Katherine
Posted on 23 January 2014 | No responses
I'm already working on a new show for Melbourne Fringe while conducting rehearsals for a repeat of Pop Mashup: Happy Birthday Doctor! at Melbourne Comedy Festival. Part of the process is finding performers who can help read through early drafts of the script and ultimately perform in the final product.
This takes some trust on the parts of the actors. They have to feel secure that I can deliver a good script. However, the rewards are great when they have a role tailor-made specifically for their skills and strengths. Given the nature of this sort of ensemble development, the actors have to offer not only their skills as a performer but their skills as a human being. They need to be flexible, patient, creative, and able to work and play well with others. When the blend is just right, we all have a lot of fun.
So how do I or other directors select actors?
Building A World
For stage, television, and film the writer and the director are building a world where stories happen. This world needs to be filled with people who interact with one another. Certainly some stories are set within a particular circumstance where everyone is likely to be similar, such as a ladies college, but that ladies college will have not only young women, but teachers, principles, custodians, etc filling up the halls. The college itself will be in a particular town or suburb with an even greater diversity of people.
Directors need diversity. When I go through sites such as StarNow and see one attractive young face with the same dramatic look after another, it makes my job easy and hard: easy in that I can discount a lot of people; hard in that I have to dig to find a diverse selection.
When I make myself available to an agent, they get all excited when I tell them I'm fifty years old. Why? Most females start dropping out of the performance business in their thirties. They are assuming that because they no longer epitomise our culture's idea of beauty that they are no longer of any use. I would say that it can indeed be harder as a female to procure decent roles when you get older, but hardly impossible. The stories need you, and you need to be there to help improve the stories.
Stop trying to make yourself the same. Stop worshipping at the foot of the current trend in actors. It is often said that Owen Wilson or various other actors, "only play themselves". But they keep on playing themselves and they keep on getting successful roles. It is all right to play at being various characters, but you need to be yourself first. The more distinct and interesting you are, the more attractive you will be to an agent or director. Leading women and men often set the standard of beauty, rather than following it, by being colourful, original, and noteworthy in some way. You don't even have to be up to modeling standards and much more frequently I'm looking for someone to play an ordinary human not an ideal.
Take A Look At Yourself
Here's how you get the performance industry to take a look at you. Take a long hard look at yourself. Look at all the parts of yourself that you've been judging as not good enough. Look at your ears, your nose, your belly, your bottom, your knees, all of it. Now I want you to understand that no one else has a body just like yours. You don't have to change a thing. I want you to start celebrating how distinctive you are. If you think there's something wrong with your behind, I want you to go out, buy a pair of harem pants, and start twerking your butt cheeks like a boss.
Next examine all those things you do in your life that you are embarrassed to tell your friends or family. Look at the Dungeons and Dragons you play, the tea cosies you collect, your obsession with keeping your car shiny clean, whatever. I want you to stop minding what other people might think of these activities, and celebrate the fact that you are an engaged human being who knows what turns them on. Wear that activity like a badge of honour. Claim it and let others know what brings you joy in life. I have auditioned more than one person because they included photos of themselves engaged in a hobby. Suddenly they become more interesting, someone who I can imagine playing this or that part.
Finally, don't mind getting all squishy and new age feely. Connect with your emotions in as broad a way as possible. I don't want to see endless photos with seductive and/or moody faces. I want to see that you can project your humanity. Emotional range is crucial in both an actor and a comedian, even when it is done comically. Put up photos of yourself smiling, looking scared, looking angry or disgusted, distraught with grief, being cheeky. These will distort your face, and you won't look like a National Gallery portrait: you will look like an actor/comedian. This will give me so much more information about whether I can use you or not.
Comedians are generally better at this than straight actors. Nevertheless, something in the back of people's heads often tells them they need to be "perfect" to get a role, and then they start homogenising themselves. Stop. Imperfection always makes for better comedy…always!
Peace and kindness,
Katherine
Posted on 14 January 2014 | No responses
Random annoying quote:
"Many experts believe mood disorders, like bipolar disorder and depression, may be linked to creativity, which might make these types of people more likely to choose an artistic career."
Let me start by saying, watch out for people who say things like "experts believe". Which experts? Using what methodology, under what circumstances, and with what sample size? If we all simply believed generic experts as a way to determine our decisions, we would be buying every expensive hair product ever made.
Sensitive people go into the the arts. Their sensitivity makes it possible for them to experience a richer world than many people. When that experience is skillfully expressed, it becomes art. Sensitive people are going to be particularly vulnerable to social pressure and judgement. So, SURPRISE! they frequently have problems with depression.
Depression does not cause creativity. Our society causes creative people to be depressed.
Making the reverse assumption helps to perpetuate a toxic culture that refuses to take responsibility for their ill treatment of various groups of people. It's not necessarily your fault for being depressed. Don't let anyone romanticise depression such that you get stuck in it, thinking you need it to achieve your dreams. You don't.
You do have to remain open to the ups and downs of life, grieving when you need to, rejoicing when you want to, and always ready to take chances when it comes to creative decisions and forming relationships. No one can promise these chances will always work out, but they are the seeds from which you will grow your finest works.
If you are depressed, find a counsellor you can talk to. Free yourself from any stigma attached to doing so. People are generally afraid of letting others grow and change, and therefore are going to be afraid of what counselling may do for you. Feel free to shop around, not all counsellors are equal. Feel confident enough in yourself to say, this counsellor isn't for me, while still looking around for a good fit.
This world is messed up enough as it is. Untreated depression doesn't help it. Your being up on that stage helping people to find a little joy and resilience, does. Know that what you are doing is important.
Peace and kindness,
Katherine
RSS Feed

Categories

Archives

Blogroll